Revamp Flooring is the right company to provide you with your needs if you prefer using luxury vinyl flooring in your homes and offices. When you want to have floors that are as strong as nails, then luxury vinyl tiles will be the perfect choice for you. They are super durable, making your floors invincible to heavy furniture and appliances, and won't break over time. Luxury vinyl tiles are traditionally used for laundry and bathrooms. They allow you to move heavy washers and dryer machines without incurring any damages and cracks on the floors. They are also scratch-proof and are resistant to other factors. Let our flooring Pasadena TX services do your washrooms and other places in your homes that need sturdier floors.
Having cracks, too many scratches, and disheveled floorings will not only be an eyesore but may also cause accidents to you and your family. This is the right time to contact us so we can finally remodel your floors. Get ready to update them as we turn them into the most modern and innovative floorings your home will ever have. You can choose whatever materials you prefer. Once your floors have already reached their maximum lifespan, remodeling or revamping them sure is the best option for you. So contact us today, and let's get things started. 
Schedule Your Free Flooring Consultation Today!
Flooring Companies Pasadena TX
Among all the flooring companies Pasadena TX has, we at Revamp Flooring are well regarded for delivering what we promise to all our clients – excellent service. In every task, whatever the project's size and scope are, we ensure our ability to meet your satisfaction. From the moment of your first inquiry, expect us to handle all of our transactions with the utmost professionalism. All of our staff are very friendly and accommodating, so don't hesitate to reach us anytime. Our floor installers are equipped with the latest information and knowledge about new flooring methods, materials, and processes. Rest assured, they can answer all your questions and queries. We will put your mind at ease as you entrust this important task to us. Our goal is to put smiles on our clients' faces and exceed their expectations. 
We know how vital your timeline is, so expect us to meet your deadline. Without compromising value, quality, and standards, we will deliver our services with no delay. Our people will arrive at your property on time and ready to complete your flooring project. You can rest easy as our people take over your flooring installations and remodeling.
Should you have any questions, give us a call. We have representatives who are more than happy to serve you. You can ask us about anything related to your project. Our flooring professionals will do the task the right way the first time. We will guarantee you that you will be happy if you hire us for your flooring needs. That is the assurance we give to our clients. Don't take our word for it; see it for yourself! See you soon!
Flooring Installation, Restoration & Repair Services Provider in Pasadena TX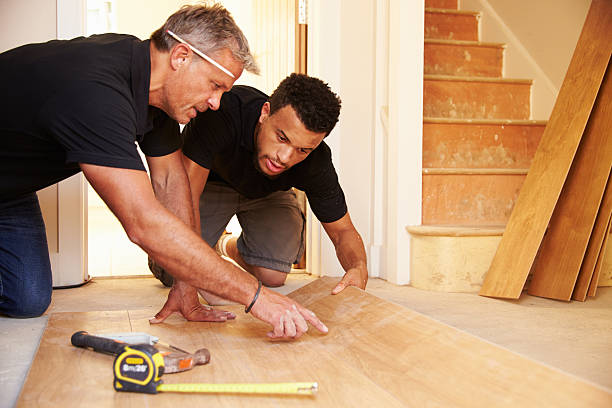 Revamp Flooring works with a variety of flooring types, including ceramic, hardwood, vinyl, carpet, and more. It covers the whole installation process, from measuring the property and selecting the right materials to install and clean up after the project is completed.
Before hiring a Floor Installation specialist, consider if the service you're receiving is exactly what you need. Floor covering has a wide range of services including tile installation, flooring restoration, and repair, refinishing hardwood floors, installing new carpet, and more. Floor Installation is not limited to residential properties; it can also be used for commercial spaces such as offices or businesses.
Before deciding on Floor Installation for your home or business property, first, determine your budget and how smooth you want the final floor surface to look. We provide free estimate to our clients and we will make sure that they will get the best out of their budget. We are also offering our services to many areas including Flooring Missouri city TX, Flooring Friendswood TX, Flooring Webster TX, League City Flooring, Alvin Flooring, Flooring Fresno, and more.
Residential flooring is a service provided by Revamp Flooring company. It's certainly not something that most people will deal with on a daily basis. Most homeowners will only need to install new floors once every few decades or so.
Residential flooring entails restoring original charm to wood floors in older homes, and to new construction floors as well. Its work can include installation, restoration, or repair of existing hardwood floors. Still, if you are looking into installing new flooring in your home, there are several options available to you.
Commercial flooring is readily available for business owners who want to improve their office space or building by providing comfort and increasing functionality at a fraction of the price compared to other flooring options.
All kinds of commercial tiles are available in a wide array of material types, colors, patterns, textures, and sizes. Commercial laminate floors are becoming increasingly popular because they offer many benefits while still appearing like hardwood. Commercial carpet is also widely used both in homes and businesses to provide softer surfaces than tile or wood while still maintaining durability and ease of maintenance.
Revamp Flooring offers industrial flooring installation services. The hard surface of an industrial floor provides much-needed grip and traction for forklifts, manufacturing equipment, and people walking within a warehouse or factory.
The team at Revamp Flooring has been providing industrial flooring installation since we opened our doors more than many years ago. We have installed thousands upon thousands of feet throughout numerous factories and warehouses around the greater Pasadena area that had experienced problems with their floors. Industrial floors that are in dire need of repair or replacement not only present serious safety hazards but also cause considerable issues for workers and machinery alike.
Laminate flooring is a great option if you want the look of hardwood flooring but are budget conscious. Laminate comes in different textures, color tones, and looks including solid, wide planks and parquet designs. We have many samples, different colors, and textures to choose from. We have a team of experts who will help you choose the right type of Laminate Flooring, Laminate Wood Plank flooring, Laminate Parquet flooring for your home.
Revamp Flooring has been helping people replace their old floors with new lamination flooring for many years now. We understand how busy your life is and we make sure to get your laminated floors at an affordable price with speedy installation too!
Hardwood flooring is a great investment for your home. Hardwood floors will be able to increase the value of your home and make it more beautiful at the same time. Hardwood floors are well-known for their durability, but they don't last forever; they can also become damaged over time. Floors can suffer damage from regular foot traffic, water damage, or animals that live in the house.
Hiring a professional hardwood flooring installation service will allow you to have new floors installed at any time without having to remove all of the old wood. Professional engineered wood installers know how to remove an existing hardwood floor so it doesn't take away from the existing hardwood. Hardwood flooring installation is an involved process, so you should find a contractor that can complete your project in its entirety. We offer complete solid hardwood services near you in Texas.
Vinyl flooring is a popular choice for a variety of reasons. Vinyl flooring installation service is definitely going to be an option that you need if you are looking into this type of flooring. Vinyl sheet flooring installation service is going to offer the very best in terms of providing you with a final product that looks as though it came from wood, but doesn't come with any of the negatives associated with traditional wood floors.
There aren't too many things worse than spending time and money on renovating your home or office just to realize that you have a worn-out-looking floor after a few months. Vinyl floor has come along as a much better option for homeowners because it is extremely durable, which means that you are not going to have to take out loans to pay for your vinyl flooring installation service.
Carpet provides comfort that can't be matched. Carpet is available in a variety of colors, textures, and thicknesses allowing you to find the perfect carpet for your home. Carpet flooring has been popular for hundreds of years. Carpet flooring provides cushion underfoot, sound dampening properties, and insulation from cold or hot rooms.
People choose to have their carpets professionally installed because it ensures the best outcome for their new carpet flooring. The installation crew at Revamp Flooring will arrive on time with all necessary equipment to install your new carpet properly. We are proud to provide our customers with Carpet Installation Service that they need.
When it comes to the flooring in your home, tile is a fantastic choice! Tile can be found in an almost endless number of colors, sizes, patterns, and textures. Tile is easy to maintain and install because it's made from ceramic materials that are pressed into thin slabs. Tile has been used all over the world for thousands of years! Tile flooring is a fantastic choice for any room in your home or office. 
Tile is durable and versatile so it's not limited to just indoor use. It is extremely easy to clean and doesn't require too much care on your part. Natural stone tiles are also water resistant so if your bathroom were ever slippy, stone tile would be the best choice from water damage to save your investment.